Lake Baikal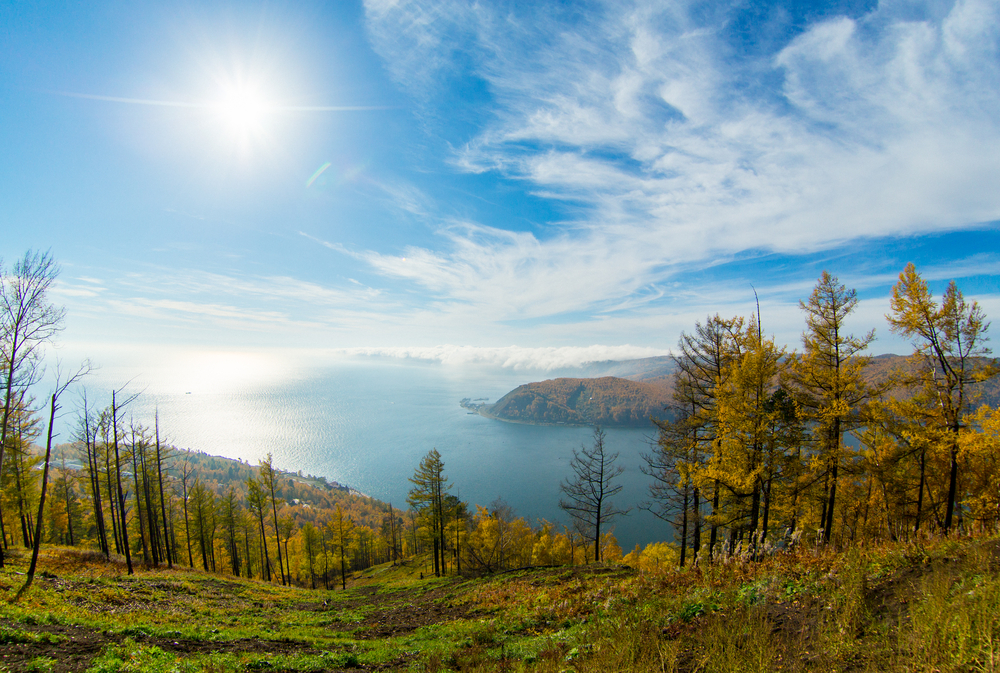 Lake Baikal is unique natural sight protected by UNESCO. And it's fair: this huge lake in the shape of a crescent, stretching from southwest to northeast for 620 kilometres, considers being the most in many ways.
First of all, it's the deepest lake in the world. Its maximum depth is 1642 meters, while the average is about 742 meters. The depth of the lake is so big because it is located in a tectonic fault. Secondly, it contains about 20% of the world's fresh water and considers being the largest freshwater lake by volume in our planet. Still the water in Lake Baikal is one of the cleanest, clearest and oxygen-richest in the world. The visibility in the water can reach up to 40 meters in fine weather. Third, flora and fauna of Lake Baikal are unique: more than 1000 local species of plants and animals can't be found anywhere else. For example, a charming freshwater seal – the Baikal seal.
Baikal is annually visited by more than 2 million tourists from all over the world. Nevertheless, there are many places on the lake that look completely virginal (and sometimes even charming and dangerous) as in ancient times. There are lots of opportunities to spend time on the lake and in the surrounding area, and everyone can find something to their liking.
It can be swimming in the lake or ship cruise, fishing or seeing the Circum-Baikal Railway – an engineering masterpiece, acquaintance with local traditions or hiking on ecological trails, scuba diving, windsurfing, thermal water treatment and even skiing in winter!
How to get there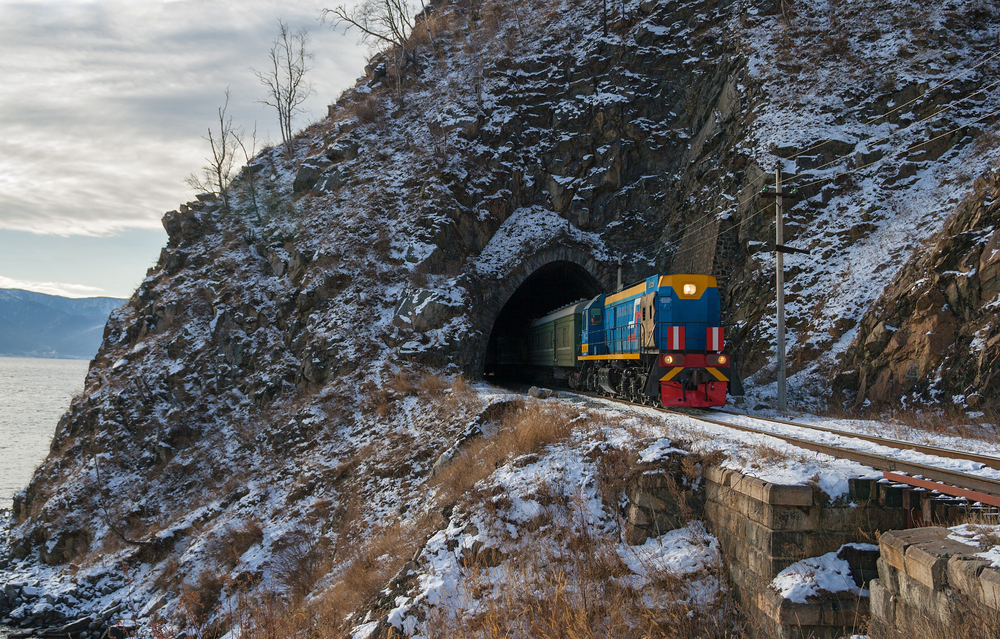 There are two big cities situated near Lake Baikal – Irkutsk on the west and Ulan-Ude on the east. Both of them have their airports that accept both domestic and international flights. Also, both of these cities are located on the famous Trans-Siberian Railway and many trains pass them through both from the west and the east.
From both cities you need to move further to the Lake Baikal shore: about 70 km from Irkutsk and 130km from Ulan-Ude. There, depending on your destination, you shall use route taxis, suburban trains or even water transport. A number of places with rocky shores still have only bad quality roads where only an off-road vehicle can pass or doesn't have roads at all.
Many route taxis and buses go from Irkutsk to various interesting places of Lake Baikal. You should know that such trip can take from 1 to 8 (!) hours, depending on the distance and necessity of ferry line (with transport). A sail across the lake from the most southern to the most northern point can take up to 14 hours.
In the north of the lake (less reclined than the south) there is a small town Severobaikalsk, where the local train comes once a week. You should go there if your goal is Khakusy hot springs or Frolikha, nearby mountain lake.
On the southern shore of the lake there is a small town Sludyanka. Trains that cross Trans-Siberian Railway has a stop on its train station (by the way, the only one in the world fully made of marble!). It can also be a starting point for a trip to Lake Baikal if you want to explore its southern part.

---
Accommodation in Baikal area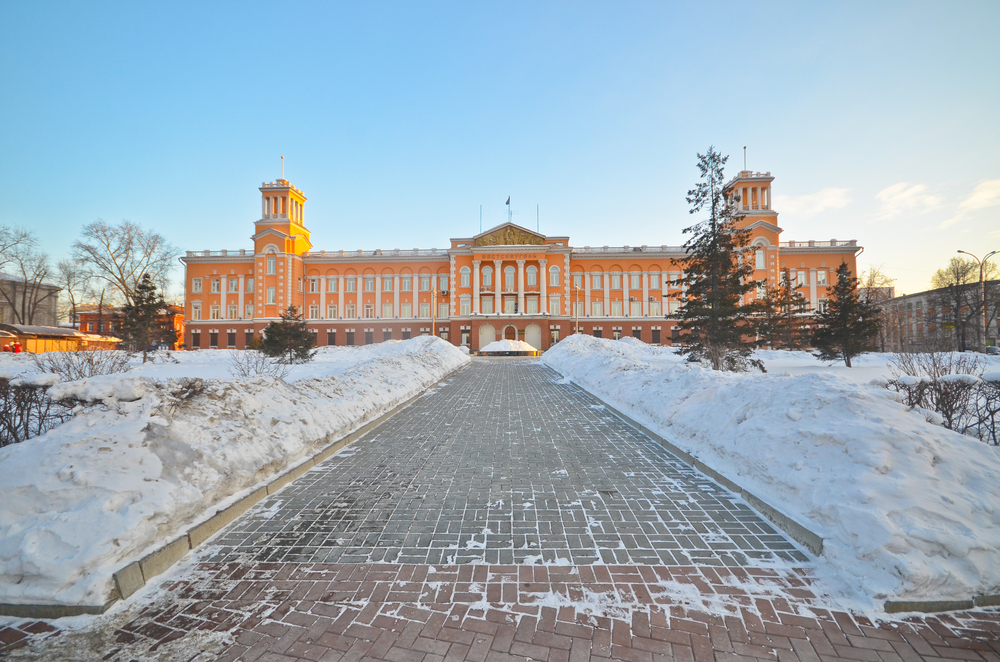 The easiest way to stay overnight at Lake Baikal is to pitch a tent on a shore or a nearby forest meadow. That's what tourists in a long hiking or water trips do. But the tent can't be pitched everywhere. Some parts of the lake (for example, a big part of its northern territory and a part of Olkhon Island) belong to reserves so you'll need to get a permission from the local administration via e-mail or phone before your arrival. Sometimes, for a number of reasons (such as fire season) they can deny, and you will have to change your plans.
On the lake shore there is a huge amount of holiday camps, especially in popular resort places. Unfortunately, many of them are old, so there could be a shared bathroom on a street. However, holiday camps are usually located close to major attractions and offer rather low prices. One night in such house can cost $10-30 per person.
There is another, more comfortable accommodation variant – guest houses managed by locals. In most cases staying there is a great opportunity not only to find a roof over your head, but also to communicate with a person who can give useful advice or suggest an interesting track. Prices are more expensive – $35-60 per night.
At Lake Baikal you can also find traditional hotels with all modern conveniences, but they are few and it's better to book them in advance because they are in high demand. A room in such hotel will cost $70-90 per night. Unfortunately, many of them are far from style and perfect service standards, but due to the lack of choices, people would bear with some nuances.
Tourists mostly like to stay in holiday camps and guest houses. They believe this is the best quality-price ratio.

---
Sightseeing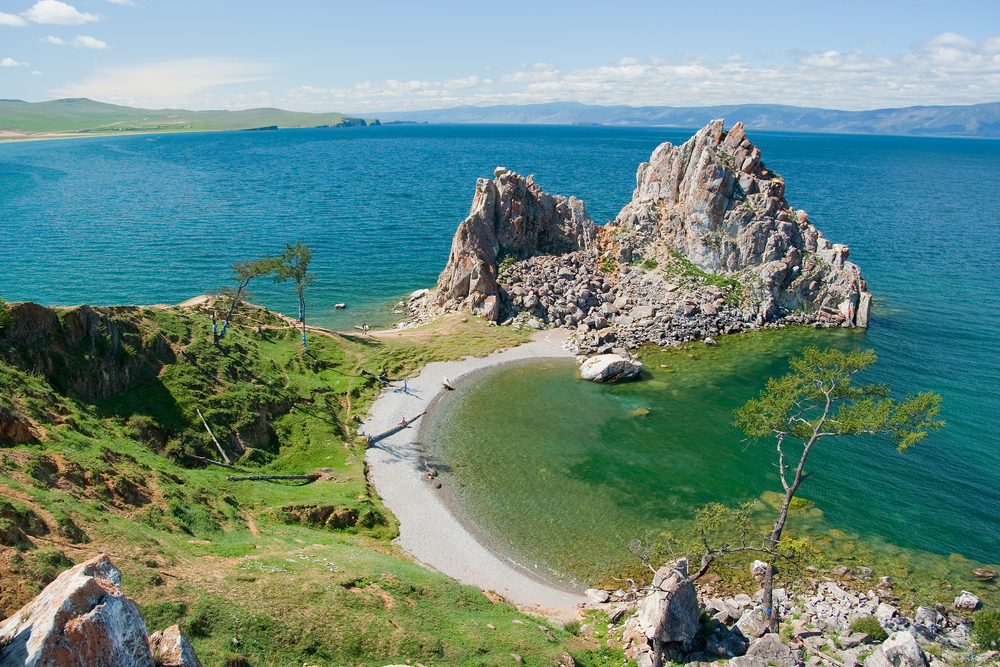 Attractions of Baikal are truly inexhaustible. Southern part of the lake has more developed infrastructure, better transport accessibility and the majority of man-made attractions, but there are more people as well. If you are looking for unexplored and savage places it's better to go to the northern part of the lake. The President of Russia, Vladimir Putin, also spent time on Baikal: he came here for skiing and also dived to the bottom in the Mir submarine.
Some places are considered to be truly iconic. Tourists and locals say that to miss them is to miss Baikal.
Olkhon island. The largest and the only one inhabited island on the lake is located in the middle part of Baikal near the western shore. Besides being incredibly beautiful – there are relict forests, sand dunes, erosive landscapes, severe rocks – it's also been known as a cult place for people who believe in shamanism, an ancient religion. Some capes of Olkhon (especially a big cave in the Shaman cliff) are considered sacred. Local people have very beautiful legends about almost every corner of the island. The most beautiful place is Cape Khoboy with a cliff above the lake in the north of the island and Peschannoe area full of trees with fantastically bared roots. Some places of the island still can't be entered an uninitiated person: locals are very serious about this taboo.
There are many holiday camps and guest houses on the island. The strait between the island and the western shore of the lake is called the Small Sea and it's one of the most popular resorts on Lake Baikal. The best way is to combine holidays on the island and the Small Sea.
Small Sea. This wide strait is called the Small Sea because it has many shoals and the lake is not very deep here. The water in sandy shallow warms up to 23 degrees, so in July and August it's a very pleasant place to swim. Small Sea is almost a champion for the number of holiday camps throughout the lake, so in high season its beaches are really crowded. On the other hand, there is well developed infrastructure: good grocery shops, ATMs, pharmacies. There are several ways to get here: by bus from Irkutsk or by ship.
Listvyanka village. This place is the ideal starting point for a journey to Lake Baikal. First of all, there is Angara river spring next to the village (the only river flowing out of Lake Baikal!) with a beautiful Shaman stone rising above the water. Also, there is one and only Lake Baikal Museum in Listvyanka, where visitors can find out more about the development history of these wild places and get acquainted with unique flora and fauna of Lake Baikal. Also, there is a beautiful botanic garden in the village facing the lake, and in sealarium you can enjoy a performance of trained Baikal seals. These animals are very sociable and intelligent, and they want to show it.
Near Listvyanka there is a cable way which provides an access to a viewing point on the Chersky Stone Mountain (755 meters). There you can enjoy a view of the southern shore.
Also, there is the most popular ecological trail in Baikal from Listvyanka to Bolshie Koti village along the western shore of the lake (about 25 km). It is not the safest trail as it passes through steep cliffs, but the landscapes are certainly breathtaking.
Listvyanka is also a good point for those who are planning to have a nice stroll around the lake by water: there is a station of the Ivan Babushkin cruise ship, and also a ferry to Baikal Port – one of the Circum-Baikal Railway stations.
There are many hotels, guest houses and holiday camps in Listvyanka.
Circum-Baikal Railway. In the old times it was called Russian gold buckle on a steel belt. Trying to avoid expensive, long and dangerous ferry lines of Trans-Siberian trains trough Lake Baikal, this railway was built in a very high gear from 1899 to 1905. This construction became one of the toughest in the world, because builders had to break tunnels through impregnable Baikal rocks, breaking off into the water, hack out beams and build bridges across mountain rivers.
Historians suggest that a carriage of explosives has been spent for every kilometre of this road, and in every 100 meters on the way you could find some engineering construction from early 20th century. However, the Circum-Baikal railway station slowly lose its significance on the western shore of the lake: a more convenient and faster way around the winding shore was built. And after the construction of the Irkutsk hydroelectric station and flooding some of the tracks the railway became deadlocked. But it didn't lose its historical and aesthetic value.
Now there is a touristy retro-train with a guide on a segment of Circum-Baikal railway from Sludyanka to Baikal Port, tickets cost from 2200 rubles per person. But there are some cheaper and more relaxing ways to explore the railway: you can walk across it by foot or (for adventurers) ride on the local locomotive with a funny name "Matanya" which looks like a small bus riding on rails. Locals use it to reach their homes in remote villages, and a driver sometimes slows down for a couple of minutes to talk to someone he knows.
Sludyanka. Another Baikal city with a glorious past. Earlier there were mica mines, and now the main occupation of the local people is tourism. Here in Sludyanka is a station for trains riding on Circum-Baikal Railway. A hiking trail to Chersky Peak also begins here. It is a 2090 meter mountain which can be conquered even by a beginner in climbing. In the town there is a very interesting Museum of Minerals, opened by local enthusiasts. It has about 9000 exhibit items – scientists even call Sludyanka a minerals paradise. And next to the city there is another mystical place on Lake Baikal: Shaman cape with preserved ancient petroglyphs on its rocks.
Baikalsk. The name of this town is well known among mountain skiers. Here is the most convenient way to rise to the top of Sobolinaya Mountain 1004 meters high where 12 different complexity ski runs are situated. From the mountain you can see a beautiful view of Baikal, and the path to the top can be reduced with a cable way. There are also many mountain lakes nearby, for example Warm lakes, which are popular among tourists.
Chivyrkuisky Gulf. It is a paradise for anglers. Local shallow water (due to Baikal standards – from 5 to 10 meters) and wealthy fodder attract many species of fish. The big perch, roach and pike are mostly the ones that can be caught here. The weight of the caught fish can be up to 10 kilograms! Also, there is a famous Snake spring with thermal waters, which is very useful for locomotor system. However, to get here is not very convenient. The best way is by water on a ship from Irkutsk, but it is also possible to go on a route taxi from Ulan-Ude.
Svyatoy Nos Peninsula. This impressive peninsula (the only hill in Baikal) attracts tourists with the opportunity to climb the mountain more than 1.5 km high. After passing through several climatic zones and being on top in the icy tundra, as a reward you get a wonderful view of the Barguzin gulf. The route to the top of the mountain 24 km in length is called the "The path of challenge."
Ushkaniy Islands. The archipelago of 4 small islands near the Svyatoy Nos peninsula is a famous Baikal seal rookery. You can't land on these protected islands (only with a permission of the Transbaikal National Park administration), but you can watch the seals with a binocular from a ship or a boat. There are excursions on islands from different Baikal towns. Also, everyone can watch a "live program" from the rookery in the Baikal Museum in Listvyanka.
Barguzin Gulf. The largest on the lake, it's known for its beautiful sandy beaches and dunes with pines. In summer the water here is also warming up to a comfortable swimming temperature about 23 degrees. There are many holiday camps in the Maksimikha village area.
Sagan-Zaba Cliff. This white marble cliff stands out from other rocks. Part of its area is covered with ancient petroglyphs with images of people, animals and birds. These drawings are approximately 2000 years old.
Peschannaya Bay. This picturesque bay is worthily called the Baikal Riviera. It is famous for its golden beaches and stilt trees that grow with bare roots. To visit this deserted bay, you need to pass 37 km on foot from the Bolshoe Goloystnoye village (the trail is unsuitable for unprepared tourists) or use the Barguzin ship which arrives here twice a week in summer.
Posolsky sor. Many windsurfers and anglers love to spend time in this warm bay, separated from the lake with a thin sand spit. Here also lives a special kind of Baikal omul – posolsky. It is considered to be even more delicious, and it is bigger than usual ones. Two resort areas attract many tourists – Baikalsky priboi and Kultushnaya.

---
Special aspects of tourism in Baikal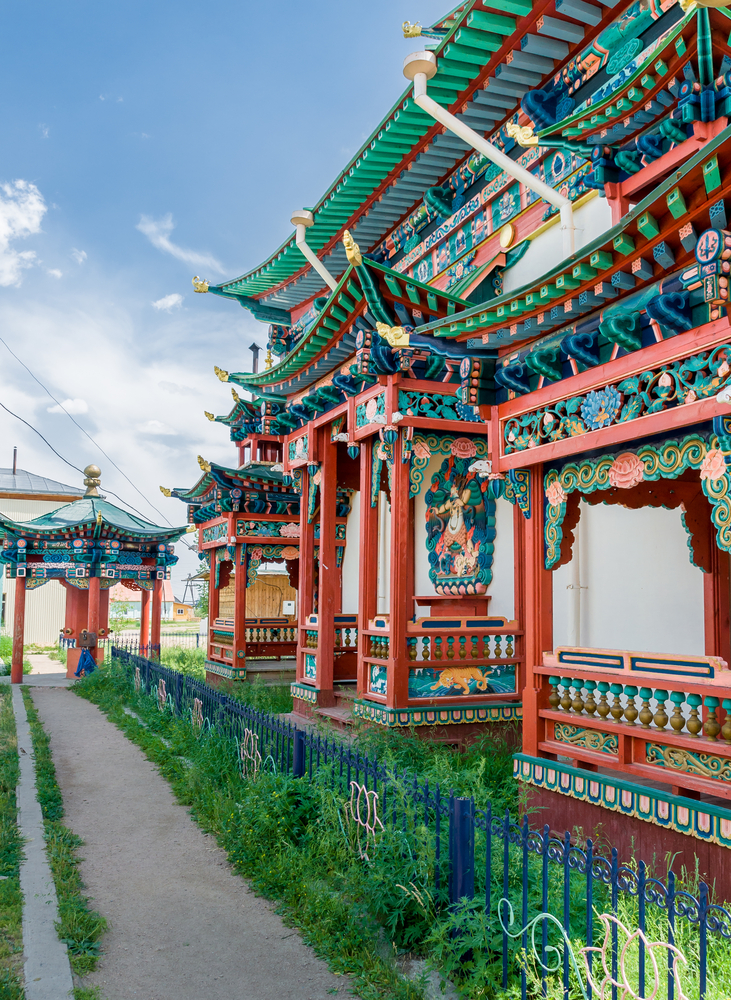 Despite its beauty, first of all Baikal is a powerful element, virgin nature in all its might. As the lake is located in a tectonic fault, a 1-2 ball earthquake can strike here. But about once in 100-150 years they can be larger.
The weather on the lake is unpredictable and in half an hour can change from a bright sunny day with a hurricane wind, rain and cold. It is caused by surrounding mountains and gorges that disperse winds in the natural "air tunnel". The locals even give them names, and there are more than 30 of them. The most famous are Verkhovik, Gornaya and Sarma. If you heard one of last two names, it is best to stop all water activities (there can be a storm on the lake) and hide somewhere in a house. However, these winds mostly blow in late autumn and winter.
For a journey to Lake Baikal, you will need a good sport or travel clothes and shoes because many trails along the rocky shores are very steep and difficult for unprepared traveller. Many of such trails are better to pass with a local guide.
Mobile receptions are better in southern regions and popular tourist destinations in the middle. In the north of Baikal, there can be no reception except in towns.
It's better to buy food and medicines in towns and villages. Baikal shores are deserted and you may not find any signs of civilization for many kilometres. The same thing about ATMs: most people use and accept only cash here. There are ATMs in towns, but it's better to withdraw money in advance – in Irkutsk or Listvyanka.
There are many mosquitoes and ticks in this area, so repellent and tight clothing (with pants tucked into boots) are required. If possible, it is better to make a vaccination against tick-borne encephalitis.