Dining in Russia
Russian streets abound with showcases of restaurants and cafes with the widest variety of national cuisines. Russians love European, Caucasian, Japanese, Chinese and Italian cuisine, but dishes here are usually adapted for national taste (usually they become less spicy).
There are not so many restaurants specializing in Russian cuisine: almost all Russians regularly eat the dishes of their national cuisine at home and in restaurants they want to try something different. But there are different Russian restaurants – from expensive with fine dining to picturesque taverns or simple self-service restaurants. Also, you may find Russian dishes in a menu of almost all restaurants with European or mixed kitchen.
By the way, there are a lot of restaurants with mixed menu in Russia: there you can try Chinese rice, Italian pizza and Russian borscht at the same time. Unfortunately, not all dishes have the best quality (though it usually isn't about Russian dishes). The prices in such restaurants are generally average.
Some cafes specialize only in one dish: usually it's pancakes, pelmeni or chebureki (the last is not so much Russian as Uzbek cuisine, but in Russia they are truly beloved). Generally, these signature dishes in such places are prepared excellently and prices are very affordable.
Another perfect way to have a fast snack and get acquainted with simple home-style food of Russian and Soviet cuisine is self-service restaurants. There is a possibility to look at this dish or that dish before buying it, and due to the big flow of customers, meals are always fresh.
The best possibility to try several dishes of Russian cuisine at one time is to order a business lunch. Usually it includes the most popular home-style food, like cabbage soup or cutlets.
Pies are often on sale at stalls near churches and monasteries. There they are especially tasty, because monks prepare them according to their ancient recipes. But in street stalls near metro, passages or stations you shouldn't buy any products with meat filling – there is a high risk to get food poisoning.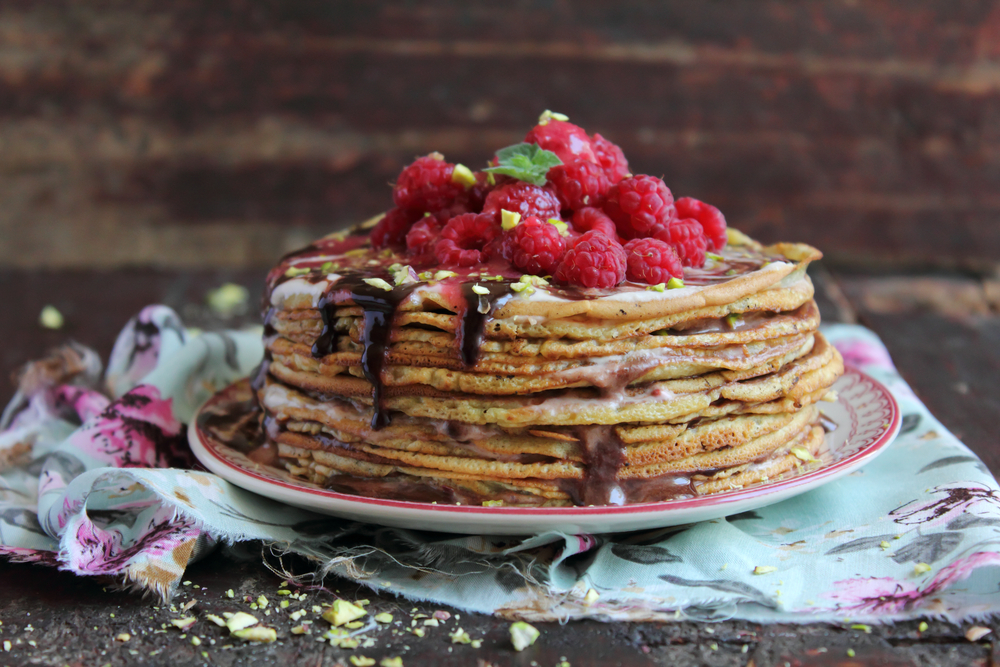 ---
What is worth a try
Orientation in the menu is one more stumbling block on the way of knowing Russian cuisine. For many Russians words like borscht or stroganina speak for themselves, and there may not be any explanation on the menu. So the best way is to get a small tasting platter.
Not all delicacies of Russian cuisine can be appreciated by an unprepared person. Some vegetables and grains have unusual taste which doesn't seem pleasant for everybody. But almost all who had tried the following dishes, usually like them. Average prices in a middle class restaurant are also specified here. Generally, it's the best place to try them. In expensive restaurants, their taste can be more distinguished or some unusual component may be added to the recipe, but the essence will be the same.
Pancakes. They are certainly worth a try both with sweet or savoury fillings. This rich and budget dish is tasty, and can be found almost everywhere: in cheap pancake-cafes and in expensive restaurants. By the way, the most efficient way to try salmon or red caviar is with pancakes.
The average price for pancakes is from 100 to 400 rubles per portion.
Pies. Perfect choice for a budget snack or a long journey by train. You should remember that pies are heavy meal which are rich in fats and starches, and 2 or 3 pies are enough and to spare for one person. An average price of pies is from 30 to 100 rubles per item. Best savoury pies are filled with mushrooms, meat and cabbage. If you are fond of sweets, you should try pies with apple and cherry.
Borscht. The Heart of Russian cuisine, appears in the menu of many restaurants. Borscht (except a vegetarian variant) is quite hearty and a thick soup. So if you wish to order a second dish after it – it should be easy. An average price for borscht is from 120 to 300 rubles.
Uha (Fish soup). Delicious and healthy fish soup can be made from cheap white and red fish. The most delicious fish soups are from pike, perch and salmon. But the price may vary – from 250 to 500 rubles.
Shchi (Cabbage soup). The smell is unusual, but the soup itself has a very good taste of cooked vegetables and fried onions. And the price is economic – from 100 to 300 rubles.
Vinegret. Cold salad made of beet and carrot with pickled cucumbers – a great choice for a snack in a summer heat. It's often included in business lunches and served in self-service restaurants. From 100 to 300 rubles per portion.
Olivie (Russian salad). Delicious and hearty salad, which is tasty and can be found almost everywhere, is made of meat, potato and other vegetables. The majority of restaurants include it in their business lunches. Also, it's rather common in cafes and canteens. From 150 to 350 rubles.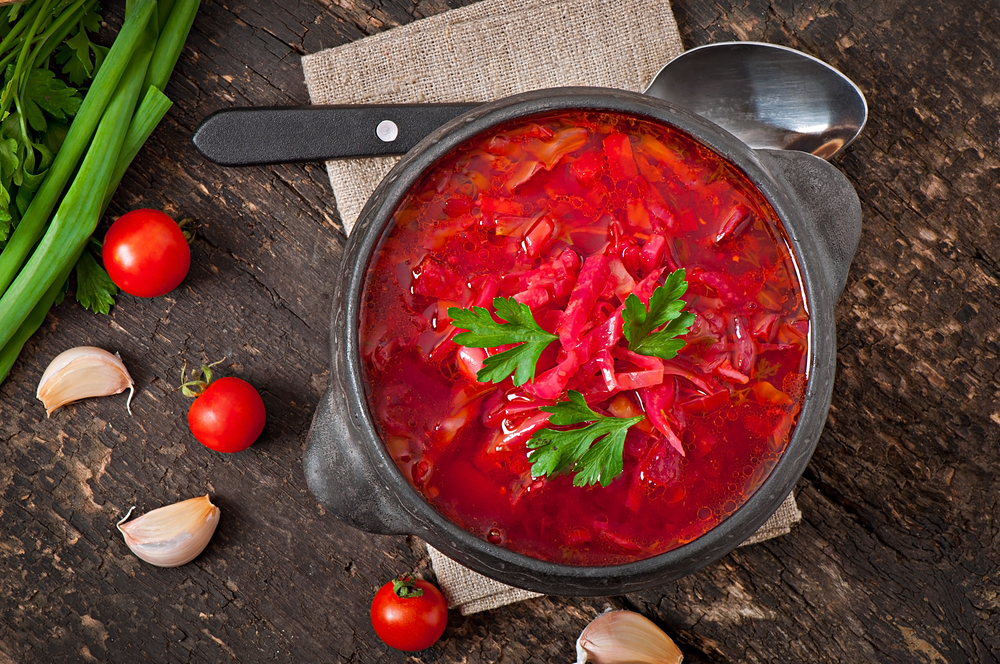 Stew in a pot. Food in pots is the heritage of peasant cuisine. It is very filling because it has meat, potatoes, tomatoes, and much more in an aromatic broth in a pot. The portion is usually quite big, around 400 grams per portion. Price goes from 250 to 500 rubles. This dish is better to try in average priced or expensive restaurants: they should have an optimal quality-price ratio.
Buckwheat. Not everybody will appreciate its harsh taste, but for Russian cuisine, it's the analog of rice in China. It is worth trying buckwheat with fillers, for example, with meat, fried onion or mushrooms. Generally, 2 or 3 of these components are included in the merchant buckwheat dish. It is recommended to drink some fluid after buckwheat as it causes slight thirst. From 100 to 350 rubles per portion.
Cutlets. It is usually the signature dish in every business lunch. If you don't like Russian cuisine at all, it can become an exception, because there is nothing but meat, bread and onion. From 150 to 350 rubles per portion.
Pelmeni. Russian version of the remarkable Chinese culinary invention. Pelmeni are a low cost, but tasty dish. There are restaurants that specialize in them only. Pelmeni should definitely be tried with sour cream. Siberian pelmeni are about two times bigger than usual and more delicious – according to gourmands. From 100 to 400 rubles per portion.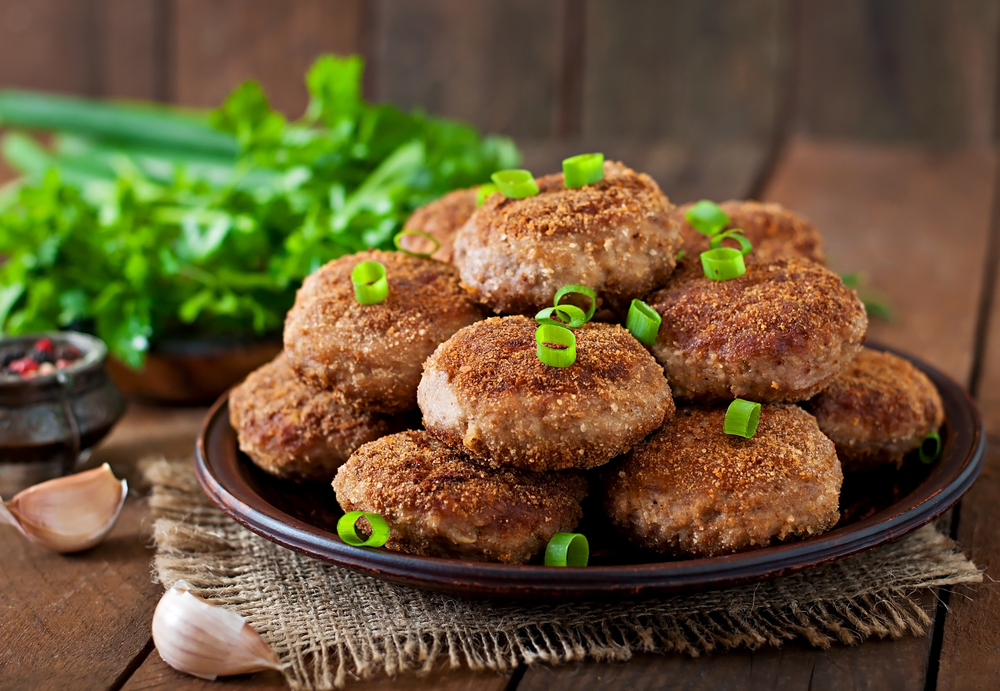 Venison. Unusual taste of deer meat will breathe new life, even into the most ordinary recipe. It is better to try venison stewed or baked. From 400 to 800 rubles per dish.
Borodinsky bread. This aromatic bread is a perfect supplement to Russian dishes, especially to borscht. From 20 to 80 rubles.
Pickles. Among various types of pickled products, the best to try are cucumbers, cabbage and mushrooms. They usually serve as a supplement to vodka. From 100 to 250 rubles.
Mead (Honey Wine). You can try this sweet, low-alcohol drink in a restaurant or buy in big hypermarkets (it usually stand next to the beer) or in handicraft markets. There are sweet and spicy varieties of mead – sometimes it's made with pepper or ginger. From 150 to 300 rubles per cup, about 150 rubles per bottle in a store.
Vodka. And of course the traditional Russian drink. It's better to have vodka with pickled vegetables (pickled cucumbers are classics) or salted herring. To avoid strong intoxication, you shouldn't drink vodka on an empty stomach – it's better to have a hearty snack in advance.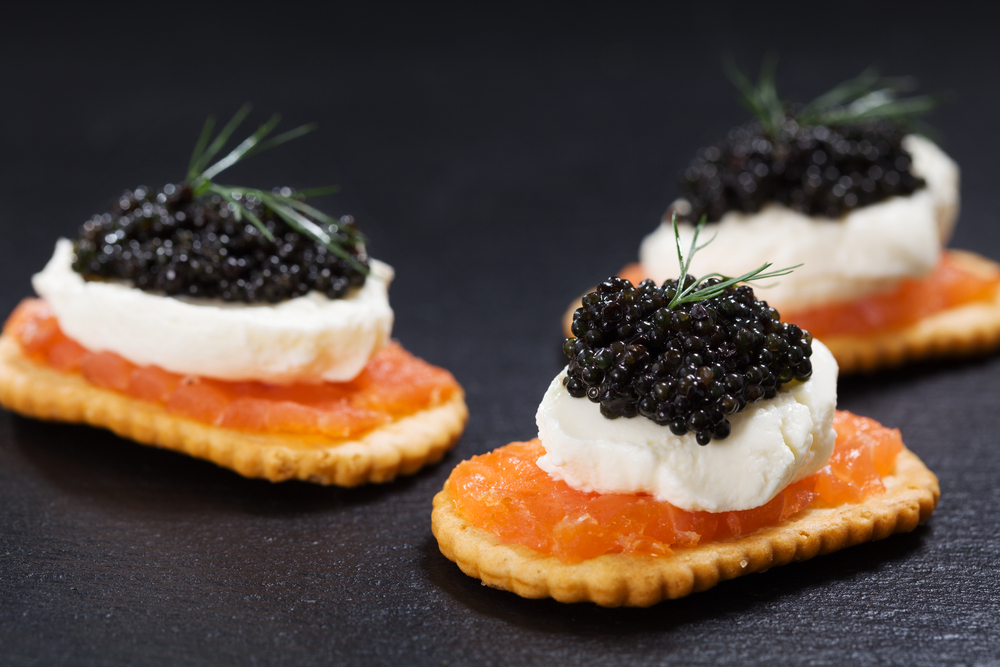 ---
Expensive taste
Stroganina. This dish made of raw fish or meat is better to eat only in expensive restaurants, where skilled chefs work – on the basis of taste impression and safety considerations. From 800 to 1500 rubles per portion.
Black caviar. Its taste is very thin, so it's better to try as a stuffing to some "neutral" dishes such as pancakes, for example. A very small portion of caviar in a restaurant will be costly: from 4000 rubles per 20 grams. You can also buy caviar in a store: a 50-grams jar will cost about 3600 rubles. It's better to choose jars made of glass, so you can see the state of caviar: it shouldn't be sticking together.
Sturgeon. Bright and refined taste of this fish especially appears in a fish soup, so (if you find it in a menu) it is worth a try without hesitation. From 700 rubles per plate.